Ford Crown Victoria Policia "Once Upon A Time" (2005) Greenlight 1:43
34-86525

Select the article characteristics
Not available
Enter the number of units to buy
This article requires a minimum of ##unidades_min_compra## purchase units.
Added item/s correctly
Could not add the product to the list
An item should be marked
Error: Missing required fields
*
The email does not have a correct format.
Then reload the page to add products rerun action
Properties
Scale:

1/43

Manufacturer:

Greenlight

Category:

Greenlight GL Hollywood

Film - TV Series:

Once Upon A Time - Tv Series (2011-)

Size:

Car model:

Tractor model:

International 3488 (1980-85)

Catalogue:

2019

Type of vehicle:

Limited Edition:

Packaging:

Age:

Age 14+
Property
Scale: 1:43
Presentation: Sealed Blister with tematic image.
Serie of TV Once Upon A Time (2011-)
Sheriff Graham (The Hunter) interpreted by Jamie Dornan
GREEN MACHINE PRODUCTION RUN
Only two percent of the cars from each production run are Green Machine 'chase' versions. For example, if 5000 units of a yellow 1:64-scale 1970 Oldsmobile 442 Convertible are produced, only 100 of those units will be Green Machines.
A "Green Machine" model can have one or more of the following parts painted in green: Body, chassis, wheels, interior, engine, tinted glass and tires.
These versions are very sought after by collectors from all over the world and except indications in the envies of random form. If you have any of them, guard it jealously as its future value will rise.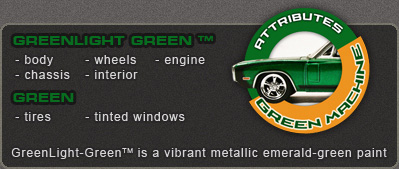 SYNOPSIS OF THE SERIE
The series is based on the theory that there is an alternative universe where all the characters of the classic fairy tales exist, a world that has a lost connection with our world, so it focuses on the characters of the Enchanted Forest and the conspiracy of the Evil Queen to disturb the lives of the other inhabitants. Through a curse, the Witch sends the characters of the stories to the village of Storybrooke, Maine, where they all live without knowing who they really are, so that she is the only one with a happy ending.
De Wikipedia, más información aquí.